April 16 - May 18, 2008
Bill returns to the Paper Mill Playhouse April 16-May 18, 2008 playing one of the "Brush Up Your Shakespeare" gangsters in KISS ME KATE.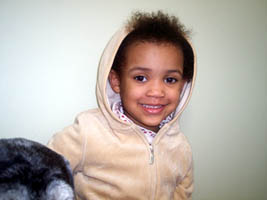 December 2007
Bill and his partner, Emmy Award Winner David Brooks, adopt Ruthie a three year old child who was in Foster Care and was featured on the weekly local NBC news feature "Wednesday's Child" with Janet Huff.
November 2007
Bill received the Broadway Gypsy Robe on the opening night of HOW THE GRINCH STOLE CHRISTMAS at the St. James Theater. This is the third time Bill has received the Gypsy Robe given to the cast member with the most Broadway credits.
November 1 - January 6, 2008
Bill returns to Broadway with HOW THE GRINCH STOLE CHRISTMAS at the St. James Theatre. Once again he is the understudy for the Grinch and Old Max.
September - October 2007
Bill appears in the New York Musical Theater Festival production of SHERLOCK HOLMES, THE EARLY YEARS as Inspector Lestrade.
September 19, 2007
Bill shot a commercial for Lincoln-Mercury on location in Central Park. ("The Marathon" featuring last seasons "THE AMAZING RACE" contestant, Sarah.)
June 20-23, 2007
Bill will be appearing with the Pan Asian Repertory Theater in Carry The Tiger To The Mountain, a play by Cherylene Lee. Bill plays Donald Evans, a Detroit Auto worker, who was acquitted of all charges in the beating death of Vincent Chin in 1982. The play is based on a true story and was made into an Academy Award nominated documentary "Who Killed Vincent Chin?".
June, 2007
Bill will be filming Synecdoche, a new film by Charlie Kaufman (Eternal Sunshine of the Spotless Mind, Adaptation, Being John Malkovich). The film stars Phillip Seymour Hoffman. Bill plays Jimmy opposite Emily Watson as Hazel and filmed on location in Brooklyn with Phillip Seymour Hoffman, Emily Watson, Samantha Morton, and Tom Noonan. Charlie Kaufman wrote and directed Synecdoche.
April 12 - 22, 2007
Bill will appear as Peter Pennington in TROPHY WIFE by Mary Fulham at La Mama Etc. April 12-22. TROPHY WIFE is based on a short story, ANNA ON THE NECK, by Anton Chekov. More information is available at www.lamama.org.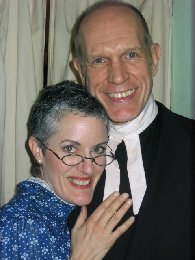 March 20 - April 1, 2007
Bill played Dr. Chasuble in ERNEST IN LOVE opposite Sarah Darcey Charles as Miss Prism (pictured) for Musicals Tonight. This staged concert version ran from March 20 - April 1, 2007. ERNEST IN LOVE is based on THE IMPORTANCE OF BEING EARNEST.
November 23, 2006
Bill appeared on the Macy's Thanksgiving Day Parade NBC broadcast with the company of How the Grinch Stole Christmas, performing "You're a Mean One, Mr. Grinch".
November 13, 2006
Bill appeared in AT THIS PERFORMANCE, an evening of Broadway Understudies for Musicals Tonight at the McGinn/Cazale theater. He sang two songs, I'M ONE OF A KIND from HOW THE GRINCH STOLE CHRISTMAS, and AFTER ALL.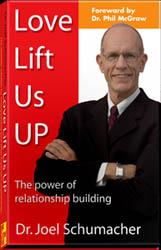 April, 2006
Bill appeared in April at the Atlantis Resort on Paradise Island in the Bahamas for the 2006 IBM Global Golden Circle Awards. Also appearing were David Shiner, Patrick Stewart, Tommy Lee Jones, and Bill Clinton. He played a Dr. Phil type relationship expert Dr. Joel Schumacher, the author of the Book "Love Lift Us Up".
March 4 - 25, 2006
Bill will appear in The Most Happy Fella at the New York City Opera! Check out the full details here.





December 31, 2005
Chitty Chitty Bang Bang played its final performance at the Hilton Theater on Broadway. Bill played the final matinees of the run as The Child Catcher.

October 24 & 31, 2005
Bill will be returning by popular demand to Danny's Skylight Cabaret Room with his acclaimed cabaret act FLYING CARS AND FALLING CHANDELIERS! on October 24 & 31 at 9:15 pm. $15.00 Cover ($10 MAC/AEA), $12.00 food/drink min. Danny's is located at 346 West 46 Street and reservations can be made at 212-265-8133. His last performance there on August 15th was a sell out!

August 8 & 15, 2005

"...you'd be wise to catch what may well be the best 47 Minutes of Cabaret you'll see this summer." -Theatermania.com, Barbara and Scott Siegel
August 8 at 9:15 and August 15 at 7:00

Musical Direction by Steven Silverstein

Directed by Tim Herman

DANNY'S SKYLIGHT ROOM CABARET

346 WEST 46 STREET, NY, NY

$15.00 Cover (MAC/AEA Members $10)

$12.00 Food/Drink Minimum

Reservations 212-265-8133

"...emotionally and artistically perfect moments. This is a man bursting with talent who has burnished that talent till it fairly glows." -Theatremania.com

Top Ten Male Vocalists in New York (2002) -Theatermania.com

Best Cabaret Debut (2002) - Theatermania.com

Currently appearing on Broadway in CHITTY CHITTY BANG BANG



August 5, 2005
William and musical director Steven Silverstein will be guests on the national radio broadcast of The Joey Reynolds Show on WOR 710 AM. The show will air on Friday morning at 1:00AM. They will be performing songs from their upcoming cabaret at Danny's Skylight Room, Flying Cars and Falling Chandeliers!

May 2, 2005
William appears in At This Performance, An Evening of Broadway Understudies at 8:00PM at the 45Th Street Theatre, 354 West 45 Street (bet. 8th & 9th Avenues). Tickets are $19.00 and are available through SmartTix. William is set to sing one original song as well as the Childcatcher's song "Kiddie Widdie Winkies" from Chitty Chitty Bang Bang. Also slated to appear are fellow cast members Julie Barnes (Truly Scrumptious) and Rick Hilsabeck (Caractacus Potts).

February 7, 2005
William begins rehearsals for the Broadway production of Chitty Chitty Bang Bang at the Hilton Theatre on 42nd Street. William will play the Inventor and will understudy the roles of the Child Catcher and the Toymaker. The show is directed by Adrian Noble and choreographed by Gillian Lynne.

October 22, 2004
William opens in the National Tour of The Phantom of the Opera in the role of the Auctioneer. He will play tour dates in Cleveland, Indianapolis, and Tampa.

September 29 - October 31, 2004
William plays the role of Big Jule in the Long Wharf Theatre's production of Guys and Dolls in New Haven, CT. The production is directed by Kim Rubenstein with choreography by Daniel Pelzig and musical direction by Jamie Schmidt. The rest of the cast includes Jonathan Brody, Ned Eisenberg, Shannon Lee Jones, Howard Kaye, Gannon McHale, Crista Moore, Joshua Odor, Dennis Parlato, Richard Ruiz, Tia Speros, Richard Vida, Elizabeth Clinard, and Dan Whelton.

August 23, 2004
Rehearsals begin for Guys and Dolls at the Long Wharf Theatre.

August 2 - 15, 2004
William takes a much-needed vacation by touring Italy (Milan, Venice, Florence, Pisa, and Rome)!

July 19 - 31, 2004
William performs in On Your Toes at the Cape Playhouse in Dennis, Massachusetts.

July 5 - 18, 2004
William rehearses for On Your Toes at the Cape Playhouse in Dennis, Massachusetts.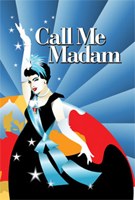 April 16 - July 3, 2004
William performs in Goodspeed Opera House's production of Call Me Madam starring Kim Criswell and directed by James Brennan. Opening night is May 19. For tickets, call the Goodspeed Box Office at 860.873.8668 or online at tickets.com.

March 19, 2004
The Official William Ryall Website is created.

March 15, 2004
William begins rehearsals for Goodspeed's Call Me Madam.